Cattenburg
A downloadable game for Windows
Cattenburg is the codename for our digital cat-themed card game that is being developed after the success of our Ludum Dare 47 entry: The Curse of Cattenburg. We were exceptionally proud to rank 3rd in Graphics and 12th Overall in the LD47 Jam! We really loved making the game and have decided to develop the card-game portion of the game further.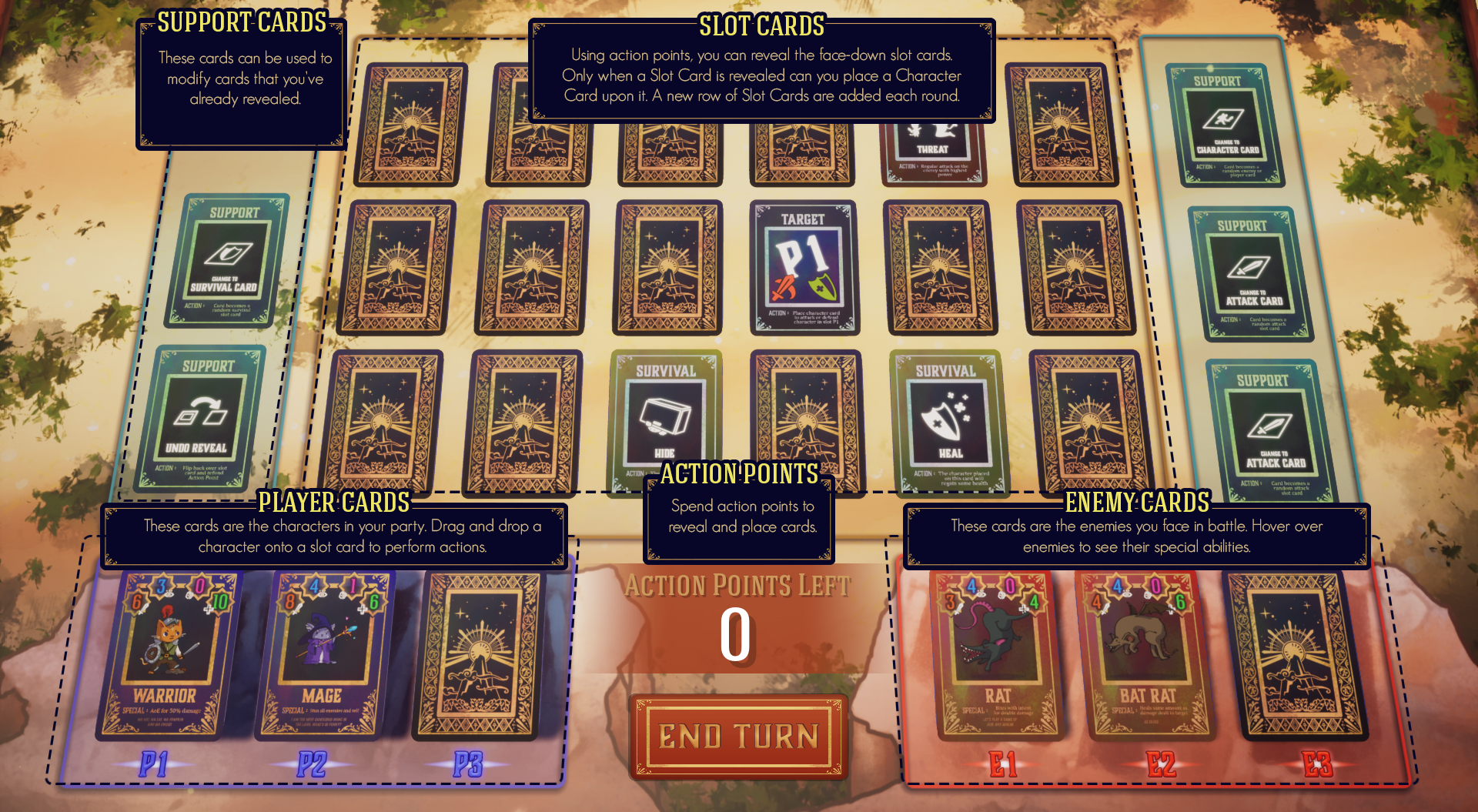 IMPORTANT:
The game's design is currently being rapidly iterated on, and so some of the ideas explained on this page can become out of date. To keep up to date, keep an eye out for our regular Youtube Devlogs and join the other Cattenburgians on the community discord: https://discord.gg/ftmjCq2
Card Game Mechanics
A brief overview of the card game mechanics are as follows:
The card combat pits two parties against one another.
Party members' identities come from the combination of their attributes (Power, Wisdom, Luck and Vitality) along with their unique special ability.
Party members can only attack by utilising the cards laid out in the centre of the board, but those cards are face down.
A party must spend Actions Points to reveal these cards, but also spend action points to place a party member on the card in order to perform that cards action.
The cards include a variety of attack cards, survival cards and special cards.
At the end of the turn, used cards are replaced and any unused cards are flipped back over.
Memorising the placement of unused cards placement will therefore help you, though fresh cards being added to the board each turn keeps your options open.
Overarching Game-loop Mechanic
We have a lot of exciting ideas that will allow players to customise and tailor their party and their abilities as their adventure goes on. The card game is used to resolve combat situations, however your party persists between combat. The intended game loop would be that you set out for adventure, with a variety of paths you can take towards your adventure's destination. These will often involve fighting off enemies, but also will provide opportunities for a player to:

Find new party members
Recover health
Add or Remove cards from your deck
Acquire support cards and trinkets
Participate in chance-based events
The player will decide which routes to take; choose new cards to add to their deck after victory; decide which heroes will form your party of three.
Deck Building
Each play through gives you a clean slate to work from. You'll be able build your party from a roster of available adventurers, but importantly - you'll be building your deck too. Your deck consists of the cards that are laid face-down during the card game, that in turn provide your characters with actions they can perform. You will not build a deck prior to adventuring, but instead you will add to your deck during your adventure.
Successfully defeating enemies will reward you with a small selection of cards for you to choose from to add to your deck. Specific locations on the map or random chance events will also allow for cards to be added or removed from your deck. This allows the player to build a deck that suits their party composition, whilst attempting to synergise their card choices as they go. Building your own deck in this way allows players to sway the odds in their favour, increasing the odds of favourable cards being revealed during the card game.

Keep in touch
Join the other Cattenburgians on the community discord: https://discord.gg/ftmjCq2

Download
Download
TheCurseOfCattenburg_PostJamUpdate_1.0.8
218 MB